AUDITIONS – JULIUS CAESAR & THE WOLVES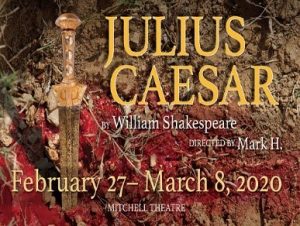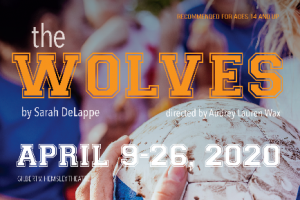 WHEN: Saturday November 2 and Sunday November 3
THE WOLVES 10:30-1:30, JULIUS CAESAR 2:00-3:00, 3:00-4:00
WHERE: THE WOLVES Vilas 1090, JULIUS CAESAR Vilas 1132
SIGN UP LINK: https://www.signupgenius.com/go/70a0d49aaa822aaf49-uwtheatre
Info for JULIUS CAESAR
We are seeking performers of ALL shapes, sizes, ethnicities, nationalities, ages, genders, abilities, and experience levels for a timely revival of William Shakespeare's timeless epic drama examining the nature of politics and power.
Initial auditions will be held by appointment Saturday, November 2nd and Sunday, November 3rd. There will be two separate hour-long workshops each day at 2:00 PM and 3:00 PM in which performers will have the opportunity to work closely with the director in a variety of group acting exercises, games, and discussions. Please choose an audition slot that works best for you. While all performers are strongly encouraged to stay for the entire workshop, full consideration will still be given to those who may not be able to do so.
Callbacks will be held Tuesday, November 5th. Those who are called back will be asked to prepare one or multiple scenes from the play.
Directed by Mark H.
Performs in the Mitchell Theatre February 27-March 8
Info for THE WOLVES
**CASTING ACTORS 18 AND OVER ONLY** All actors playing team characters must be able to play ages 16-17. This production has high physical demands and proficiency in basic soccer skills is a plus.   Actors cast as the team will participate in soccer training. Athleticism/soccer skills will be evaluated at callbacks through movement exercises. Soccer Mom does not need soccer experience.
If auditioning for a teenage team member, please prepare a 1:00-1:30 minute contemporary teenage monologue.
If auditioning for the Soccer Mom, please prepare a 1:00-1:30 minute contemporary monologue
In addition to the monologue, we are asking for each actor to share a personal story about a time they felt connected to a team. What does the word teammate mean to you? And who were/are you on this team? What was your role?
Sign up for a 5 minute time slot, Saturday, November 2nd and Sunday, November 3rd, between 10:30 AM and 1:30 PM either day. Callbacks will be Monday, November 4th.
Breakdown
Seeking: Performers of all ethnic and racial background are encouraged to audition.
#11: Female, 18+ to play 17; open ethnicity. Midfield. Brainy, morbid, budding elitist, thoughtful. Smart and she knows it, watches documentaries, columnist for high school newspaper. Both of her parents are psychiatrists. A bit of a know-it-all, she enjoys policing and correcting her teammates.
#25: Female, 18+ to play 17; open ethnicity. Captain. Classic ex-coach's daughter. She keeps the team on track, even if she'd rather join in on the fun, and loves a good pep talk. A hard worker, a good leader; emotionally closed off, she discovers her first crush on a woman and shaves her head.
#13: Female, 18+ to play 16; open ethnicity. Midfield. Class clown, jock, a bit of a bro, her older brother's a stoner and they definitely play FIFA. Into her wackiness. Refuses to take anything too seriously, she lives to rib her teammates, which can get her in hot water.  .
#46: Female, 18+ to play 16; open ethnicity. Bench. The new girl, awkward, different. Homeschooled, she lives in a yurt with her new age travel writer mom. Her nomadic life has left her with idiosyncratic passions (bird watching) and a lack of social skills, but she doesn't seem to mind. Extraordinary soccer skills are essential; she must juggle a soccer ball for a minute, or perform a similarly impressive feat.
#2: Female, 18+ to play 16; open ethnicity. Defense. Innocent, unlucky, kind, skinny. Sweet, naive, sheltered, she considers herself a nice and humble person; she is a member of her church's youth group and of Amnesty International, along with the oldest sister and caretaker of her many younger siblings. Has an eating disorder; has suffered multiple concussions. Doesn't like talking bad about others.
#7: Female, 18+ to play 16; open ethnicity. Striker. Too cool for school. Sarcastic, "fuck", thick eyeliner. The child of a bad divorce, her lawyer father owns a ski house, and she's dating a college boy – they're very much in love. Has problems with authority.
#14: Female, 18+ to play 16; half-Armenian. Midfield. #7's insecure sidekick. Just switched to contacts. She's modeling herself on the cool girl, #7, but begins to rebel after a ski weekend gone wrong. Her mother is Soccer Mom, very involved in her life.
#8: Female, 18+ to play 16; open ethnicity. Defense. "Omigosh", plays dumb, goofy, giggly, excitable, a crier, a dreamer. Obsessed with The Lord of the Rings and making it to nationals in Miami. Her mom died when she was ten, and she never talks about it. She lives in a self-inflicted state of innocence.
#00: Female, 18+ to play 17; open ethnicity. Goalie. Intense performance anxiety, social anxiety, perfectionist, high achiever. She has a 4.9 GPA, is Editor in Chief of the high school newspaper, plays cello. Before every game, she stops talking and vomits. Militant.
SOCCER MOM: Female, late 30s-early 60s. Manic with grief, warm, generous, she is a suburban woman who prides herself on her involvement in her teenagers' lives. In the wake of her daughter's death, she sees herself as a mother to all, and would rather console her daughter's teammates than admit her tragedy. Never misses a game. Verbal dexterity is essential; she is spinning very fast to avoid looking at her unthinkable loss.
Directed by Audrey Lauren Wax
Performs in the Hemsley Theatre April 9-26