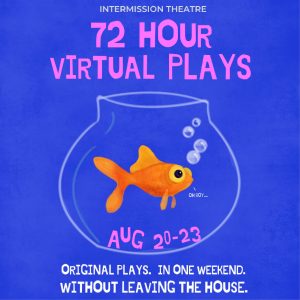 InterMission Theatre, a UW-Madison Student Organization affiliated with the Department of Theatre and Drama, held the "72 Hours Virtual Plays August 21-23, with a virtual performance streamed on Facebook Live August 23.The group commissioned members of the UW-Madison community to put on original, 10-15 minute long plays that were written, rehearsed and performed in 72 hours, all virtually.
Watch the full performance here.
The endeavor raised over $900 for Freedom, Inc. – a non-profit organization that works with no to low-income communities of color in Madison to achieve social justice by coupling direct services with leadership development.
The plays devised and performed under the creative supervision of Josie Brandmeier, Producer, and Sarah Candee, Stage Manager, were:
"Virtual Hugs" written and directed by Rigoletto Lopez, featuring Ananda Deacon, Kate Nerone, Tai Crowell and Sydney Walker
"Poor and Fortunate Souls" written by Ananda Deacon, directed by Bryanna Plaisir, featuring Jared Paullin, Josie Brandmeier and Joyeeta Nag
"Everything Going On" by Kate Nerone, directed by Summer Kleppek, featuring Tia Vasen, Krista Laszewski and Andie Davis
"Scaredy Kat" by Kerry Billings, directed by Tierra Higgins, featuring Gabrielle Bruns, Isabella Gilbert and Allison Hesselberg
"The 2nd Time Around" by Sam Wood, directed by Abi Priepke, featuring Eric Maccoux, Lauren Iver, Jake Paquette, Marisol Morrissey
Read more about the performances in this article from the Badger Herald.