The Black Arts Matter Festival returns November 5, 12, and 19.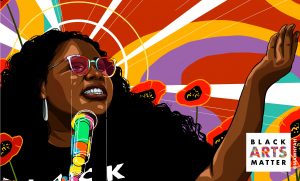 Building a community around Black artistry by uplifting Black art and Black voices in white-dominated spaces, the Black Arts Matter Festival is an interdisciplinary arts festival celebrating and promoting Black art.
Founder and Artistic Director Shasparay Lighteard is a performing artist from Austin, Texas, who is currently the 10th Ranked Poet in the World. She graduated with a B.A. in Theatre and African American Studies at the University of Wisconsin-Madison, she is a recipient of the First Wave Urban Arts Full Scholarship. While a high school student she was a speaker at the 2016 TEDxYouth Austin conference and earned a National NAACP ACT-SO Gold Medal. Shasparay has been a finalist in a myriad of slam competitions such as Women of the World Poetry Slam, Southern Fried Poetry Slam, Texas Grand Slam and is the two-time Lip Stick Wars Poetry Slam Champion. Shasparay has also been featured on Button Poetry, Youth Speaks, BuzzFeed, and Huffington Post.
Due to the COVID-19 pandemic, the 2020 Black Arts Matter Festival is a virtual event. For more information visit the Wisconsin Union's website here.