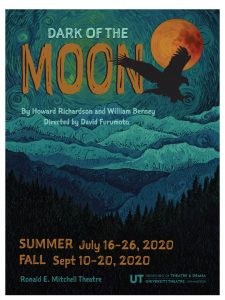 Dark of the Moon
Auditions have been cancelled at this time. Those interested may submit a video audition to David Furumoto at furumoto@wisc.edu
CANCELLED: 10:00 AM – 4:00 PM, Saturday March 28th (Vilas 1090)
Directed by: David Furumoto
Audition Preparation
Prepare a 2 to 3-minute folktale or fable.

Showcase your ability to portray multiple characters.

You may be asked to read sides from the script.
Callbacks will be held on Sunday, March 29th from 1:00 – 4:00 PM in Vilas 1090. Actors will be provided sides to prepare.
Production Information
Rehearsal dates: June 8 – July 15, 2020
Performances: July 16 – 26, 2020
Fall remount performances: September 10 – 20, 2020
If cast, all students MUST enroll in three credits of Theatre & Drama 360. Scholarships will be available. More info available at auditions.
To sign up for an audition slot, click here.