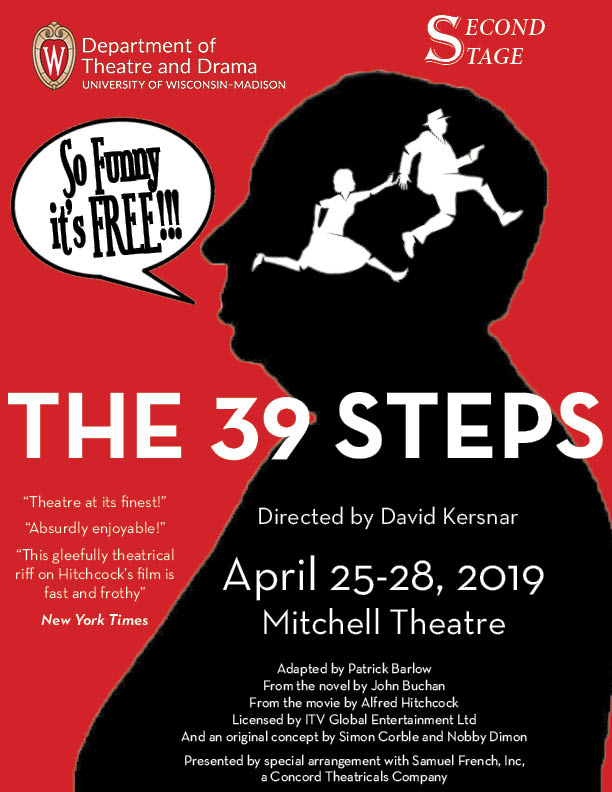 The Second Stage Production of Patrick Barlow's Hitchcock spoof THE 39 STEPS April 25-28 in the Mitchell Theatre.
Mix a Hitchcock masterpiece with a juicy spy novel, add a dash of Monty Python and you have The 39 Steps, a fast-paced whodunit for anyone who loves the magic of theatre! This two-time Tony® and Drama Desk Award-winning treat is packed with nonstop laughs, over 150 zany characters (played by a ridiculously talented cast of four plus two foley artists that perform a cacophony of sound effects), an onstage plane crash, handcuffs, missing fingers, and some good old-fashioned romance in our gender-bending production that pokes fun of once acceptable misogyny of days gone by.
The cast features Allison Hesselberg, Brette Olpin, Sam Ropa and Sam Wood with Michael Kelley and Annalyse Lapajenko as Foley Artists under the direction of visiting lecturer David Kersnar.
All performances are FREE to the public, no reservations required.
Performance Calendar:
Thursday       April 25th                    @             7:30pm
Friday             April 26th                           @             7:30pm
Saturday        April 27th                           @            2:00pm
Saturday        April 27th                           @            7:30pm
Sunday          April 28th                           @            2:00pm
Sunday          April 28th                    @            7:30pm