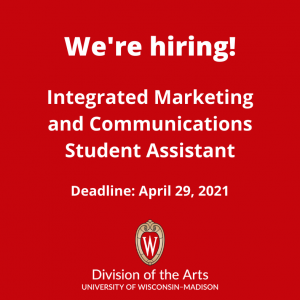 The Division of the Arts Integrated Marketing and Communication (IMC) team is seeking a student assistant who is passionate about the arts at UW–Madison and has the interpersonal, technical, and writing skills to communicate effectively. This position reports directly to the IMC Creative Director and assists with a variety of communications, marketing, and outreach responsibilities. Your work will be both meaningful and visible to campus and beyond, and will be seen by a broad range of audiences.
This position also participates in the Division of the Arts Inclusivity, Diversity, Equity, and Accessibility (IDEA) committee and assists with IDEA communications. The Division of the Arts, like the UW–Madison, believes that diversity is a source of strength, creativity, and innovation. We value the contributions of each person and respect the profound ways their identity, culture, religion, background, experience, status, abilities, and opinions enrich the university community.
Candidates should have a strong interest in IDEA and in marketing, public relations, digital media, communications, arts administration, or journalism.
The application deadline is April 29. Apply HERE.